2021 COVID-19 UPDATES
March 15th, 2021
March 2nd, 2021
January 29th, 2020
Coronavirus Updates and Resources from Rep. Lieu
Dear neighbor, 
This week, California and LA County reopened certain sectors of the economy due to encouraging projections regarding hospital Intensive Care Unit (ICU) capacity. However, the reopening of some sectors does not mean the risk for community transmission has gone away. Please continue to make careful choices and wash your hands frequently; engage in social distancing; and wear a mask in public. Below is additional information from state and local officials on current COVID-19 restrictions. 

I'm pleased President Biden acted this week to restore and expand access to quality, affordable health care coverage for all Americans. One of his actions on health care was an executive order establishing a special enrollment period for the 36 states served by the federally facilitated marketplace from February 15th through May 15th. Covered California, California's insurance marketplace, followed in his footsteps. Starting February 1st, uninsured and eligible Californians can sign up to receive coverage through Covered California through May 15th. As we continue to grapple with the COVID-19 pandemic, we must ensure all Americans have access to health insurance.

Covered California's current open enrollment period runs through January 31st and consumers must sign up by that deadline to have coverage that starts on February 1st. To learn more about coverage plans and find one that works for you and your family, please go to CoveredCA.com.

VACCINE UPDATE: LA County is actively vaccinating health care workers, staff and residents at long-term care and skilled nursing facilities, and residents ages 65 and older. To book an appointment and learn more about vaccine distribution in LA County, please visit VaccinateLACounty.com or call (833) 540-0473 from 8:00 AM to 8:30 PM 7 days a week.
Your weekly reminder: 
Californians can now sign up to get notified when it's their turn to receive the COVID-19 vaccine. To sign up, go to myturn.ca.gov.


This is a difficult and uncertain period for all of us, when many are feeling stressed, anxious or depressed. If you are feeling this way, please know that you are not alone. If you need someone to talk to, please call the LA County Department of Mental Health hotline at (800) 854-7771 or text "LA" to 741741. Please also view the CDC's guidance for coping with stress and anxiety during a pandemic.


Californians can opt-in to receive Apple or Google notifications if they've been exposed to someone with COVID-19. CA Notify, the new statewide exposure notification system, is completely anonymous and will never track your location. To help protect your community against COVID-19, please go to canotify.ca.gov and add your phone today.


If you are in need of food assistance; housing relief; information about COVID-19; and more, please call 2-1-1 or visit 211la.org.
Please remember to get your flu shot to stay healthy this season. It is likely that both COVID-19 and the flu will be present at the same time in LA County this year. You can get a flu shot at any local pharmacy. For quick flu facts and frequently asked questions about COVID-19 and the flu, click here. 
COVID-19 Updates
From the State

This week, Governor Newsom lifted the Regional Stay at Home Order after the 4-week projected remaining ICU capacity exceeded 15% in all five regions. Counties have now returned to their appropriate tier in the tiered blueprint system, which means restrictions vary by county. For more on the statewide orders in place, please visit covid19.ca.gov.
From LA County
Los Angeles County remains in the purple, most restrictive tier on the Blueprint for a Safer Economy. However, LA County has issued a new Health Officer Order to more closely align with the sector openings permitted in the purple tier. For more information on reopenings, please visit covid19.lacounty.gov.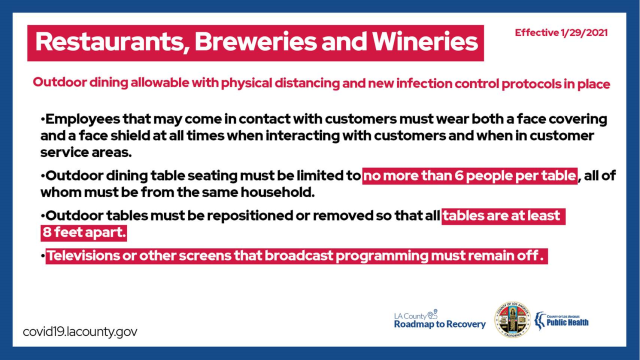 Additional Resources 
All LA County residents who would like to get tested for COVID-19 should first contact their Primary Care Provider to see if they offer tests. If you cannot access a test through your health care provider, please visit covid19.lacounty.gov/testing or corona-virus.la/covid-19-testing to sign up for a no-cost COVID-19 test. Testing is recommended for those who:

Have symptoms related to COVID-19.
Were asked to get tested by LA Public Health because of a contact tracing investigation.
Were in close contact with someone who tested positive for COVID-19 in the past two weeks.
Work or live in a skilled nursing facility; group home; residential care facility; homeless shelter; or correctional facility.
Are experiencing homelessness.
Are an essential worker with frequent contact with the public.
Don't have symptoms but believe you may have been exposed to COVID-19. 

If you live in the City of LA and are unable to drive to a testing site, you can receive a free COVID-19 test at a mobile pop-up location (no appointment necessary). Please click here to view current and upcoming pop-up testing sites.
For updated data on COVID-19 cases and hospitalizations in California and LA County, please go to update.covid19.ca.gov and publichealth.lacounty.gov.
This week, Governor Newsom and California legislative leaders announced an agreement to extend the state's eviction moratorium through June 30th, 2021. They are also moving forward to equitably administer $2.6 billion in renter aid. These moves aim to protect renters and small landlords from losing their housing as the pandemic continues.
Tomorrow at 10:00 AM, LA County Supervisor Janice Hahn and Stay Housed LA are holding a special tenant workshop to help tenants learn their rights. Please click here to register.


Round 2 of the California Small Business COVID-19 Relief Grant Program opens on February 2nd and closes on February 8th. For more information on how to apply, please visit careliefgrant.com.
Please beware of vaccine scams. If someone offers to sell you the vaccine before it's your turn, it's a scam.


Later this week, LA Public Health will begin emailing those who have already been vaccinated at a County site confirming the place and date of their second dose appointment. When you receive the email, please confirm the time that works for you via the link. For more information, please click here.
Governor Newsom also announced a series of new improvements to California's vaccination plan. The state will be bolstering its efforts to vaccinate as many Californians as possible as quickly as possible.  
Staying home can be isolating and cause moments of loneliness. Older Californians and their caregivers can call Friendship Line California at (888) 670-1360 for someone to talk to.


Thank you for your dedication to preventing the spread of COVID-19. The health and safety of our community depends on the choices of individuals like you. Please remember to wash your hands frequently; engage in social distancing; and wear a mask in public. Your actions have the potential to save lives. For more on COVID-19, please visit my coronavirus webpage and follow me on Facebook, Twitter, and Instagram. I look forward to updating you again soon. 
Stay safe. 
Sincerely, 
Ted W. Lieu 
Member of Congress
January 26th, 2020
Gov. Gavin Newsom and other legislators have consented to a proposal to extend California's eviction moratorium by another 5 months. They are also proposing a new model to allocate the $2.6 Billion in federal rent relief to occupants monetarily hurt by the COVID-19 pandemic and rental property owners (of which $1.5 Billion to be allocated for California), an exertion that would head off what some caution could be a housing emergency in the state, authorities said Monday, January 25th, 2021. It is estimated that over 1 million renters are behind on payments, totaling approximately $3.7 Billion in unpaid rent.  $1.5 Billion in rent relief subsidies would cover approximately 40.5% of the total estimated delinquent rent in California. [PATRICK MCGREEVY STAFF WRITER, LA TIMES]
Effective March 20, 2020, due to the Governor's Shelter in Place Order, we  have closed our offices but will still be taking calls and responding to emails during our normal office hours, Monday-Friday 8:30 a.m. to 5:00 p.m. PST.  We will still be servicing our tenants and customers remotely.  
Please know that we are still providing maintenance to those units requiring it. However, please remember our maintenance teams and their families. They deserve protection and to that end, we ask that you:
Open all of your windows prior and during the time our technician is in your unit.
Keep all people at least 6 feet away from our technician at all times.
Make soap and water available to our technician immediately upon arrival, during the visit and at the completion of the job; and, most importantly,
Let us know if anyone in your home shows any symptoms of illness so that we may reschedule for a day when everyone is well.
"March 30, 2020 Letter to our Tenants"
What If I Cannot Pay Rent Due to COVID-19 Restrictions?
Flex (provides flexibility on when you make rent payments) 
Flex allows you to split up your rent into smaller, stress free payments throughout the month or pay on a later date for $19.99/month. 
If you are a tenant who will have a significant loss of income that will impact your ability to pay rent within the next couple of months, then you will need to complete the COVID-19 Payment Plan request form (click here for form) and email us at info@jamico.com with the subject title "COVID-19 Payment Plan Request." Please include the following information with your email:
Resident Name(s)
Address and Unit #
COVID-19 Payment Plan Request Form
Any proof you might have from your employer or doctor stating why you cannot work or have reduced hours.
Our team will then make a note of it and work with your Landlord and our Attorneys to figure out the best course of action.  We understand that these will be difficult times for many people and we will do our best to be flexible and accommodating while still serving our clients and communities to the best of our ability.  Please keep in mind, the properties we manage are individually owned, as such, we cannot give you one policy that will be effective for all of our tenants.  As such, we will have to work with each tenant on a case by case basis.
We will aim to get back to everyone who has submitted a payment plan proposal by the 10th of the month.  If you have not heard back from someone regarding approval of your payment plan proposal, please follow-up with our office by emailing info@jamico.com.
Other Resources
Government Resources
https://www.cdc.gov/coronavirus/2019-ncov/index.html
"15 Days to Slow the Spread CDC Poster"
Mar 30 2020 Update America Cares Act 
California State Featured Services and Information​
CDC – Handouts & Posters
https://www.cdc.gov/coronavirus/2019-ncov/communication/factsheets.html
EDD – Unemployment- under the guidelines EDD recently released addressing COVID-19, if employees are temporarily out of work due to COVID-19 they can apply for Unemployment and not be required to actively seek work each week which is a requirement under normal circumstances.   
https://www.edd.ca.gov/Unemployment/Filing_a_Claim.htm
Apartment Association Corona Virus Resources
https://caanet.org/coronavirus-resources-for-navigating-the-outbreak/
https://www.naahq.org/coronavirus-guidance
https://www.aoausa.com/magazine/coronavirus/
Local/Community Resources
Covid19 Los Angeles Community Resources (ENGLISH)
Covid19 Los Angeles Community Resources (SPANISH)
Gardena Awaits: COVID-19 Business Resource Portal
Guide to Parenting & Family Health During COVID-19
Coronavirus: Guidance for Better Mental Health
COVID-19 Mental Health And Addiction Resources
13 steps to take if you've lost your job due to the coronavirus crisis
"Creativity at Home"-by Jamison Management Company
JMC and COVID-19 
On March 13th, 2020, our CFO sent an internal memorandum informing our company's corporate personnel, staff, managers, and teams of a new company policy. With the threats of the spread of COVID-19 "Coronavirus", our company consulted with our human resources office to put a plan in action for how our company planned to respond to the guidelines suggested by the CDC.
We are sanitizing common areas regularly, such as handles, doorknobs, light switches, etc.  Wipes and disinfectant will be made available, as supplies are available, for employees who may need to clean desks, keyboards, and other work surfaces. 
Employees may be sent home in an effort to prevent further infection of healthy staff; we encourage sick employees to stay at home. The CDC recommends that you not return to work until you are free of fever or other symptoms for at least 24 hours without medication that may alter symptoms.
Masks are available and are required for employees who are exhibiting symptoms such as coughing.  If masks are not available, as there is a shortage of supply, you will be sent home.
We are practicing social distancing
Other emergency measures are being developed in the event of a widespread outbreak in our community.
We are reviewing the possibility of allowing certain employees to work remotely from home on a temporary basis during this time.
Business travel will also be minimized
Employees are encouraged to interact with clients on the phone rather than in-person, if possible.
 Basic measures remain the best defense against communicable diseases:
Wash your hands for 20 seconds or more with soapy water frequently throughout the day.
 Cough and sneeze into a tissue or your elbow or clothing.
 Get adequate sleep and eat well-balanced meals to ensure a healthy immune system.
 Avoid contact with people who are already sick.
Avoid touching your mouth and eyes.
 Consider the flu shot.
 Do not shake hands with anyone.
Do not go into a tenant's home without first asking if anyone is sick in the home or has been within the last two weeks.  Enter units with caution, and wear PPE when necessary.
We are monitoring government resources such as the Centers for Disease Control (CDC) and the California Department of Health on a daily basis for updates and guidance for employers. It is our priority to stay informed as the situation changes and update our clients, employees, and residents of new temporary policies we adopt during this difficult time. We at Jamison Management Company are committed to serving our community with integrity and safety and plan to have more information at the situation evolves.
If you have any questions or concerns for our office regarding these new policies, or about specific concerns we may be able to assist with, please reach out to us by emailing info@jamico.com
- Jamison Management Company